The Team
We consider ourselves very fortunate to have a great team working with us. Below are photos and a bit of background for both Mitch and Phyll, as owners of the company, Mattias our leading hand and Scott who has been with us for quite a few years, is doing a Marine Exterior Coatings apprenticeship now to formalise the skills he already has. Mitch's son, Chris has recently joined us and is in the process of doing a Boat Building apprenticeship". 
As well as the core team of four, we also have Neil Rapson working for us, who has been with the team for a few years now. When we are going into a Christmas period we usually have 2-3 part time helpers which means we get through the work as quickly & efficiently as possible.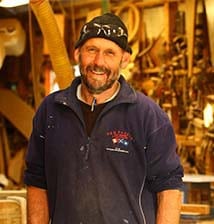 Mitch Pascoe
Director
Mitch's interest in boats started as a small child, something handed down from his father Howard. From playing with model yachts & learning to row a dinghy at an early age, things developed into learning to sail & generally playing about in boats. After finishing school at Mt. Albert Grammar & not knowing where to go from there he moved into the fishing industry.
Read more about Mitch ...
After some 2 years, & his parents not wanting him to be a fisherman for the rest of his life, he became an apprentice diesel mechanic. After he gained his qualification he decided once again to become involved with boats & worked with Howard.
After several years he decided to move away from Whitianga & work elsewhere in the marine industry as both a mechanic & a woodworker. During this time away he managed a 200tonne slipway, involved in all aspects of slipping both commercial and pleasure vessels, commercial boat maintenance, including mechanical work, wooden boat repairs, fleet maintenance, steel boat repairs, sandblasting and painting.
In 1988 Mitch moved back to Whitianga & went into partnership with his father repairing boats & general boat maintenance, as well as building dories & a 30 foot Chico yacht. In 1995 the Whitianga Marina hardstand opened & the majority of work was then undertaken there rather than the workshop at 1 Dundas St. With the evolution of the NZ fishing industry & the reduction in the number of fishing vessels, the emphasis has moved from servicing the fishing industry to the pleasure boat & charter industry. With the advent of production GRP vessels, the maintenance tasks have changed over the years from wooden repairs to boat painting & general boat maintenance and cleaning & polishing.
Mitch is qualified with Trade Cert Diesel Mechanic, Trade Cert & Advanced Trade Cert Boatbuilding, Exterior Marine Painting Level 4 and Yachting NZ yacht inspector.
Mitch's interests are flying his PA-18 Piper Cub aeroplane (he has held a fixed wing Commercial Pilots License since 1982), tramping, fishing, a longtime NZ Deerstalkers member, NZDA range officer & above all hunting Sika deer in the Kaimanawa & Kaweka ranges, a very special part of NZ.
Over the years he has built up a collection of maritime books including many on yacht design, traditional boat building and repairs. He has had a lifetime interest in yacht design, wooden boat building and its methods. He considers he has a good knowledge of the subject of wooden boatbuilding and repairs, a subject where the skills and knowledge are rapidly being lost with the passing of the older generation of boat builders.
Recently he has rekindled his love of yacht racing by being involved as crew on a local boat, a Thompson 8 sports boat, which could be described as one of a newer generation of yachts of a modern design, composite constuction and carbon/kevlar sails. He owns a Farr 1020 "Flying Fish" which, when he gets time, he will get going again.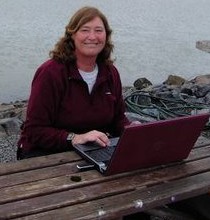 Phyll Pascoe
Administration
Phyll has been in the service industry all her working life, starting in the BNZ, then to Bond & Bond, then moving to the shipping freight industry for a few years.
Then she spent 16 years organising the freighting of horses, deer & other livestock by air, including being lucky enough to travel with them on many occasions.
Read more about Phyll ...
After such an interesting job became old hat, she became a Sub 60 courier for a few years until the Auckland traffic became unbearable. She moved to Mercury Bay in 2003 & met Mitch a year later, becoming his life partner until they married in January 2015.
She started off helping on the yard, water-blasting, wet sanding & grinding until the administration side of things became too big to do both that and work on the yard. With Phyll helping Mitch with the administration side of the business this freed Mitch up to concentrate on the "hands on" work. Phyll handles all the organisation of work for the business as well as handling the accounting side of things.
Phyll has always been involved with the sea and the land, riding horses from an early age. She grew up with Mercury Bay as her holiday home, with the normal fizz boat that goes with a bach by the sea. She was involved with the Spirit of Adventure Trust for many years doing various weekend & 10 day youth voyages as a watch leader on both the Spirit of Adventure & the Spirit of NZ. Her other loves are tramping & their Weimaraner, Bodie, who is a regular visitor to the marina.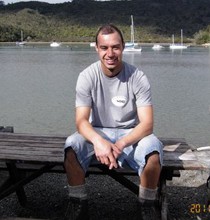 Mattias Toia
Marine Painter & Leading Hand
Mattias grew up in Paihia & later Whangarei. He has been involved in the Marine industry since 2002 when he started working at Astral Yachts/Friendship Yachts. It was here that he was introduced to marine painting and developed his skills in this area working on eight world class Friendship 40's as well as a long list of other, privately owned yachts.
Read more about Mattias ...
He worked there for 6 years before moving onto Pacific Gloss where he gained more experience in Boatyard work & marine re-paints & touch-ups.
He has worked on many large, world renowned yachts including Lanakai, a 72ft cruising yacht, Douce France, a 138ft sail catamaran and Black Pearl, a 31.5metre Superyacht. All these jobs taught Mattias a lot including the importance of attention to detail.
Since he joined us in 2011 Mattias put these skills onto paper and completed an Exterior Marine Painting apprenticeship, he e is now our Leading Hand and looks after things for us when we are not available.
Mattias was around boats as a young boy which later turned into an interest in working in the marine industry. He married his wife Monique in April 2009 and they have three young children, Briar, Braxton and Grayson.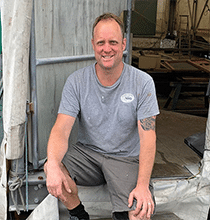 Scott Jamieson
Marine Painter
Scott grew up here in Mercury Bay, on the Coromandel Peninsula. He lived in Auckland for a few years where he became involved in the motor vehicle industry in early 2001 selling cars. In 2005 he transferred to Toyota NZ in the city until 2013 and then moved to their Thames branch. While in the motor vehicle industry he gained a good knowledge of sales, logistics, installations, and carried out repairs such as paint touch ups and polishing.
Read more about Scott ...
He started in the marine industry when he joined us in 2017. He does everything from sanding, filling, removing & refitting anodes, scoops & other fittings, as well as masking boats for both antifoul and topcoats. He sprays most of our antifouling on hulls and sternlegs. Plus he grinds running gear and does most of the Propspeed applications for our company.
Scott will be starting a Marine Exterior Painting apprenticeship with us in early 2022 to gain extra knowledge and qualifications to add to his certificates in Business Management, plus Competitive Systems & Practices, both gained while with Toyota.
Growing up with the beach at his doorstep, Scott has always been interested in the ocean & boats & became a PADI trained Rescue Diver as a result.
Scott married his wife, Yolanda, in September 2000. They have 3 young girls, Arielle, Evana and Inara.
Chris Pascoe
Boat Building Apprentice
Chris is Mitch's son. He used to skipper mussel barges in Coromandel and over the last about 3 years has been a skipper on the Whitianga ferry.
We are very excited to have him joining the team in March  2022 where he will start a boat building apprenticeship. He has a partner, Emily and a daughter named Cosmos
Contact us today!
For a friendly chat or just some advice about your boat, feel free to contact us now.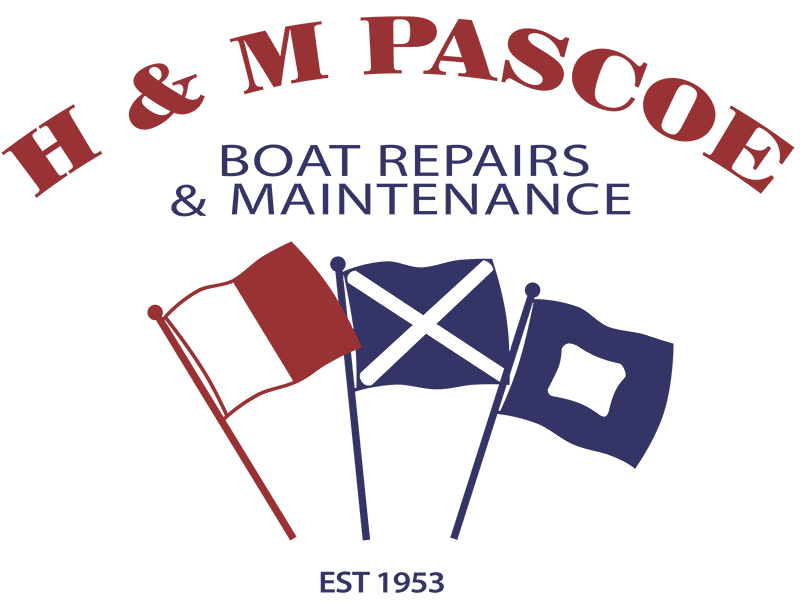 H & M Pascoe Boat Builders
H&M PASCOE BOAT BUILDERS LTD
1 DUNDAS ST
WHITIANGA 3510
Email info@hmpascoe.co.nz
A/H 07 866 5866
1 DUNDAS ST
WHITIANGA 3510
A/H 07 866 5866
Mitch   0274852046
mitch.pascoe@xtra.co.nz
Phyll   0274852036
phyllpascoe@xtra.co.nz